Loucks Landscape Supply
Loucks Landscape Supply has a wide variety of products for all areas of your yard and landscape. Whether it be bark, soils, gravel, retaining wall, u-cart concrete, sod, pond supplies, erosion control, and much more.
We have the knowledgeable crew to help you get the job done right. Questions on quantities, which type of product works best, or help walking you through your project come in or give us a call.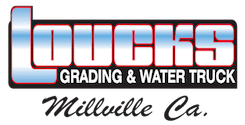 Visit Loucks Chipseal
Start Your Landscape Project Today!
The Loucks Family thanks you for your business!